West Bengal Govt sends show cause notice to doctors for strike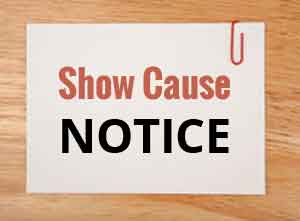 Kolkata: The West Bengal Government has issued a show-cause notice to striking doctors after a section of doctors, affiliated to the United Doctors Voice of Bengal, stayed away from work at out-patients departments in several private hospitals in the city to protest the alleged attacks on doctors by outsiders.
"We have issued show-cause notice to the clinical establishments under the West Bengal Clinical Establishments (Registration, Regulation and Transparency) Act, 2017. They have to respond by August 28," Director of Health Services B.R. Satpathi told IANS.
Meanwhile, demanding immediate intervention by the police, a spokesman of the association said, "We did not block any OPD. We did not resort to trade unionism, we did not ask our members to stop work, but our members responded by not attending OPDs."
"This is against increasing attacks on members of medical fraternity in the city, vandalisation of properties and refusal to pay bill for medical treatment," he said adding that over 4000 doctors affiliated to the association stayed away from OPDs in around 10 private hospitals.
The cease work was triggered by alleged intimidation by relatives of a patient at CMRI Hospital last week who had refused to pay the hospital bill amounting to Rs 75,000 for a patient under treatment for one month.
The agitating doctors, however, assured emergency services and claimed care of admitted patients "were not affected".
The protesting doctors expressed "complete solidarity with their CMRI colleagues".
An IMA official said, "We do not support any strike in medical establishments. We support the recent bill introduced by the state government aimed at improving facilities at the private health care sector but we also oppose hooliganism."
Saibal Biswas, a Bangladeshi patient was furious after finding no doctor at an OPD at a private super speciality hospital off E M Bypass and said, "why should patients suffer! I had prior appointment today but as I called my doctor he advised me to come next week."
Members of another patients family said after running from one private hospital to another, finally they could see a doctor at the third one and doctors cant go on agitation in this way.
Read also: WB: Leading Private Hospitals on OPD Strike after Extortion and Violence at CMRI Hospital