Why professional indemnity insurance is important for doctors?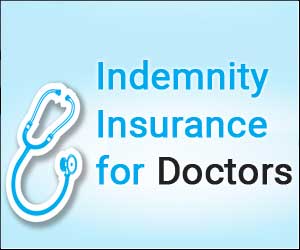 Now, doctors can get complimentary professional Indemnity Insurance worth Rs. 20 Lakhs with Doctor's SBI Credit Card

Negligence cases against medical professionals are a common sight nowadays as doctors are increasingly being accused medical negligence and professional malpractice.

Medical Negligence cases in the past few years have seen more than 400% rise, fuelled by the inclusion of such cases in the Consumer Protection Act(CPA) since 1994. Over the years, the amount of compensation has also seen a steep upward trend, with forums asking doctors and hospitals to pay compensation commonly in the denominations of lakhs and even crores.

Even with the recent proposed amendments to the CPA, doctors find themselves holding the rough end of the bargain, with proposed enhancement of penalty powers with the lower fora and lack of proper protocols that should be kept in place when dealing with the specialised medico-legal cases.

With such a legal background, medical practitioners remain is a state of perpetual fear of negligence lawsuits arising out of their medical practice.

How can Doctors protect themselves against Unforeseen Lawsuits.

Given this scenario, it becomes necessary for doctors to safeguard themselves against a heap of risks or loss which could arise due to professional negligence cases. While there is no way to protect oneself for the harassment and tension that comes with lawsuites, medical practitioners can insure themselves from the financial setback that comes in the light of compensation arising out of the medical negligence cases and legal fees.

What is 'indemnity insurance'?

Indemnity insurance is a contractual agreement which is designed to shield professionals when they are found to be at fault. Most of the times, the other party files for a compensation and that's where the policy comes to their rescue and covers costs of the compensation paid by professionals as well as the legal fees incurred

How would indemnity insurance help doctors?

A recent panel formed by the government on medical negligence revealed that of the total number of cases filed, only 15% cases were genuine. Yet still, both the number of cases as well as the amount of compensation, both are on the rise. This has created an alarm in the medical fraternity as there's a constant fear of getting caught in medical negligence cases and absurd charges from patients and their relatives.

Taking a proactive approach to the scenario, it is always good to be prepared having professional indemnity insurance, also referred as 'professional liability insurance', than to face the last minute financial crisis

Now, doctors can get complimentary professional Indemnity Insurance worth Rs. 20 Lakhs with Doctor's SBI Credit Card

When it comes to treating patients, a lot rides on the doctor's shoulder. In all this, one can't eliminate the chances of unforeseen events which makes doctors more exposed to the risk of claims from the sufferer.

To safeguard doctors' professional interest, Doctor's SBI Card provides complimentary Professional Indemnity Insurance worth Rs. 20 Lakhs. It not only protects them from unfortunate events but also provides cover for legal costs and expenses in defending the claims.

This unique credit card comes with additional benefits such as International & Domestic Airport Lounge access, 5X Reward Points on travel websites/apps, international spends, medical supplies and on all spends done on Doctors' Day.