Haryana: Smallest Pacemaker Implanted In 92-Year-Old At Medanta Hospital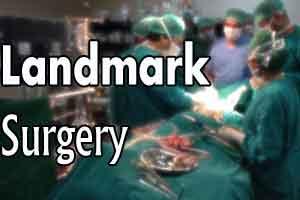 GURGAON:  The world's smallest pacemaker was successfully implanted in a 92-year-old man at Medanta Medicity Hospital in Gurgaon, one of the first hospitals in the country to offer such a heart device, said a doctor.
A senior doctor at Medanta said the world's smallest pacemaker was for patients with bradycardia, a condition characterised by a slow or irregular heart rhythm, usually fewer than 60 beats per minute.
Recently approved by the US Food and Drug Administration (FDA), the Micra Transcatheter Pacing System (TPS) is a new type of heart device that provides patients with the most advanced pacing technology at one-tenth the size of a traditional pacemaker.
The first procedure was performed by Balbir Singh, Chairman of Cardiac Electrophysiology and Pacing Section and also a Senior Interventional Cardiologist at Medanta Medicity Hospital in Sector 38 in Gurgaon.
In patients suffering from bradycardia, the heart is unable to pump enough oxygen-rich blood to the body during normal activity or exercise, causing dizziness, fatigue, shortness of breath or fainting spells.
Pacemakers are the most common way to treat bradycardia.
Comparing it to the size of a large vitamin capsule, Mr Singh selected to use the Medtronic Micra TPS because unlike traditional pacemakers, the device does not require cardiac wires (leads) or a surgical "pocket" under the skin to deliver a pacing therapy.
Instead, the device is small enough to be delivered through a catheter and implanted directly into the heart with small tines or prongs, providing a safe alternative to conventional pacemakers without the complications associated with leads - all the while being cosmetically invisible.
The Micra TPS is also designed to automatically adjust pacing therapy based on a patient's activity levels.
"Latest innovation in pacemaker technology coupled with minimally invasive procedure increases the benefit to patient manifold. Not only is Micra TPS device MRI compatible, it also does not have wires like other traditional pacemakers which reduces the risks of infections caused due to wires," Mr Singh said.
He added, "It's a keyhole procedure which makes it cosmetically viable and leaves no visible sign of a medical device under the skin."