Yes, Pharma D passouts allowed to use DR Tag: Health Minister tells parliament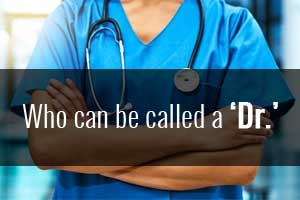 New Delhi: Pharma D professionals have been allowed by the Pharmacy Council of India to use the prefix "Dr", the MOS Health recently informed the parliament
Providing details for the course and the amount of time spent in the hospital, the minister informed that Pharm.D course is of 6 years duration (after 10+2 Science Stream). Every student is posted in hospital for 50 hours in each of 2nd, 3rd & 4th year of the course. In the 5th year, there is a clerkship wherein the student is required to attend the ward-round half a day on a daily basis. In the 6th year, a student undergoes internship in a 300 bedded hospital.
Responding to the question on the issue of Dr tag for Pharma D Graduate,  the minister informed that in the year 2012, the Pharmacy Council of India directed the universities to use "Doctor of Pharmacy" in the provisional as well as final degree pass certificates in respect of students passing Pharm.D (Doctor of Pharmacy) course and to prefix "Dr" before the names of such students. Under Pharmacy Practice Regulations, 2015 notified by PCI, Pharmacy Practitioner which also includes Pharm.D qualified persons. In the said Pharmacy Practice Regulations, Pharm.D has also been included as an educational qualification for the posts like, Drug information Pharmacists, Senior Pharmacist, Chief Pharmacist in the Departments of medical services in both the government and private sector.
However, the minister clarified that this does to equate them to MBBS, neither is there any demand for recognizing Pharm.D equal to MBBS.
"However, Pharmacy Council of India (PCI) has been receiving demands for recognizing Pharm.D equal to clinical pharmacists," the minister added. Providing details of foreign countries the minister informed that in advanced countries of the world like USA, Australia, Canada, UK etc., Pharm.D
graduates work as Clinical Pharmacists.
Medical Dialogues had earlier reported about the controversy that had erupted within the medical fraternity following the decision of PCI to grant "Dr" prefix to all Pharma D degree holders. While the Pharma D students welcomed the move, the doctors have claimed that Pharmacists using the "doctor" tag will only create confusion in the minds of patients
Read Also: Pharma D can now use DR prefix, Doctors cry foul
Stating that such "transgressions of entitlement are illegal and illegitimate", the Indian Medical Association (IMA) had come in opposition against the decision of the Pharmacy Council of India (PCI) decision to allow those receiving Doctor of Pharmacy (Pharm D) degree to use the prefix 'Dr' before their name.
The IMA had also written to the Union Health Ministry and the Medical Council of India (MCI) over the issue stating it is against all such shifts from those who are trained in other streams of the health sector to venture into medical practice
Read Also: Pharmacists use DR prefix: IMA writes to Union Health Ministry, MCI