Cabinet Rejig: Former CM of Assam Sarbananda Sonowal takes charge of Ministry of AYUSH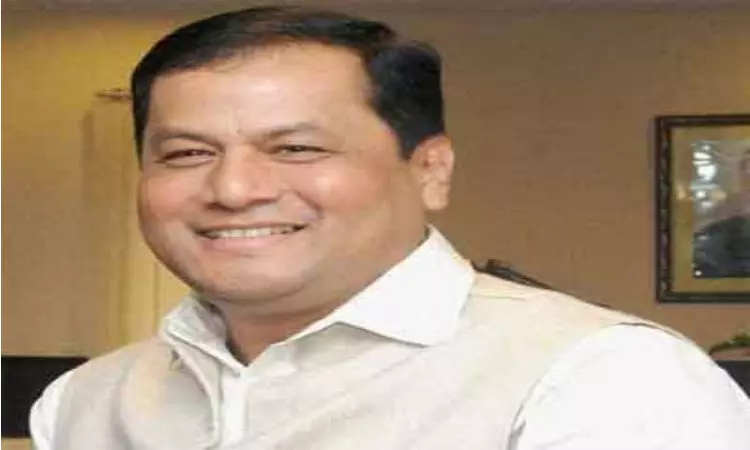 New Delhi: In a recent Cabinet reshuffle, former Chief Minister of Assam, Sarbananda Sonowal has been named the Minister of AYUSH, as well as Minister of Ports, Shipping, and Waterways. He took oath as Union Minister in Prime Minister Narendra Modi's Cabinet on Wednesday.

This comes as a part of a major cabinet reshuffle wherein as many as 43 leaders took oath as Union Ministers.
Shripad Naik, who had been minister of state with independent charge of the Ayush Ministry for the previous seven years, has been handed new portfolios in the latest cabinet rejig. Naik was the first Ayush minister after the portfolio was formed in 2014 under the Narendra Modi-led government.
However, with the latest overhaul in the Cabinet, Sonowal who started out life as president of Assam's oldest student body, the All Assam Students Union (AASU), has been inducted as current Minister for Ports, Shipping and Waterways and Minister of AYUSH.
Sonowal, who was named in Modi's first cabinet as Northeast's sole representative as a minister of state with independent charge is back for his second innings at the Centre with the recent induction.
This will be Sonowal's second stint in the Union Ministry. He was the minister of state (independent charge) for Youth Affairs and Sports in the first government of Prime Minister Narendra Modi from 2014 to 2016. He also served in the first Modi government as Minister of State (Independent Charge) for Skill Development and Entrepreneurship.
He returned to Assam to head the first BJP-led coalition government in the state in 2016. He was chosen to be the Chief Minister of Assam after the 2016 Assam Legislative Assembly election and he is the first Chief Minister of the State from the Bharatiya Janata Party.
Sonowal had started from students politics and was the president of AASU from 1992 to 1999. He was the president of the Union from 1992 to 1999. Apart from this, from 1994-2004, Sonowal was also the Chairman of the North East Students Organisation (NESO), the umbrella student organization spread across the seven North-Eastern States.

From 2001 to 2004, he served as MLA, Assam Legislative Assembly from Moran Constituency. Further, from 2004 - 2009, he served as Member of Parliament, 14th Lok Sabha from Dibrugarh Constituency, reports ANI.
In 2021 he was re-elected to Assam Vidhan Sabha from Majuli. He resigned as Chief Minister and proposed Himanta Biswa Sarma's name as his successor.
Expressing gratitude over the recent appointment, Sarbananda Sonowal tweeted, "I express my gratitude to Hon'ble PM Shri @narendramodiji for entrusting me as the Minister of Ports, Shipping and Waterways, & Minister of AYUSH. Under your guidance, I will dedicate my services to the Nation."
Meanwhile, in a recent interview with TOI, Naik said that he will strive to complete the projects in the state that he took on as Ayush minister.
Source : with agency inputs