Controlling Hypertension with Azilsartan: Recent Advances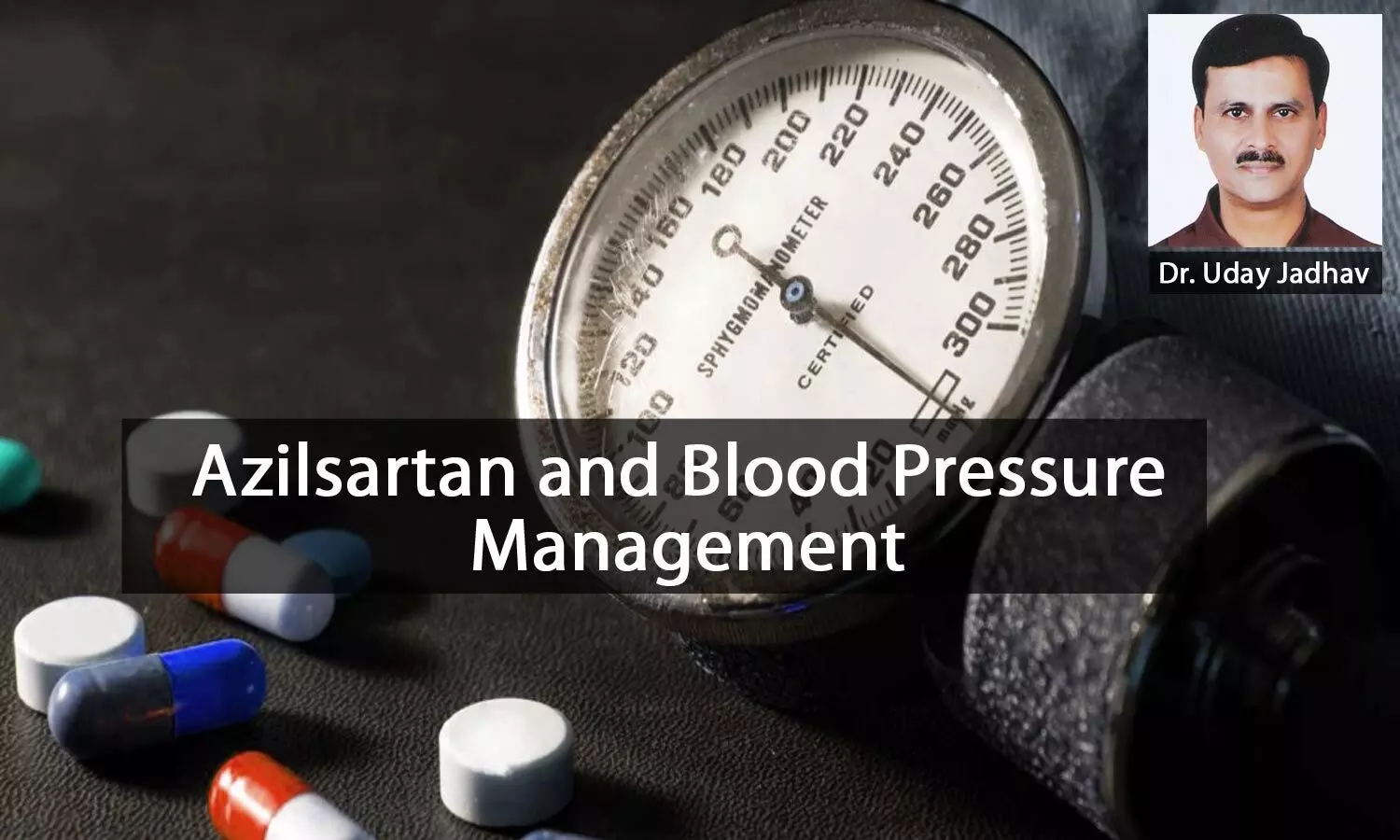 Azilsartan is a newer, potent, and safe angiotensin II receptor blocker taking control over hypertension. It has played an essential role in changing the dynamics of hypertension management.
RASS inhibitors have a central role in hypertension management. Among the four RAAS modulators listed to date, Angiotensin-converting enzyme (ACEi) and Angiotensin II receptor blockers (ARBs) are the commonly used drugs for hypertension management in clinical practice. Among these agents, practitioners chose ARBs over ACEi as first-line therapy owing to their favourable safety profile goals. (1)
Angiotensin II receptors have a crucial role in both the pathophysiology of arteriosclerosis- associated hypertension, insulin resistance, and essential hypertension. ARBs have emerged as an optimal therapeutic strategy in the management of hypertensive patients with metabolic co-morbidities. Treatment with ARBs is associated with a significant reduction in CV events and mortality. (2)
The most recent addition in the array of ARBs is Azilsartan medoxomil. Azilsartan induces its antihypertensive effects by selective blocking of angiotensin II binding to the angiotensin type 1 (AT1) receptor, which further antagonizes the "pressor response" of angiotensin II.(3)
Once-daily administration of Azilsartan at doses of 20, 40, or 80 mg is effectively able to reduce essential hypertension in adults over 24 hours.(4) It has shown to have better antihypertensive efficacy than maximum therapeutic dosages of olmesartan medoxomil as well as valsartan. A study conducted by Bakris and co-workers has demonstrated that Azilsartan at a dose of 80 mg is more effective in reducing BP than the highest approved dose of olmesartan, which is supposed to be more effective than others drugs in the ARB class. (5) In this study, a total of 1275 patients with primary hypertension and baseline 24‐hour mean ambulatory systolic pressure ≥130 mm Hg and ≤170 mm Hg were enrolled to received placebo and different dose levels of Azilsartan (20 mg, 40 mg, or 80) and olmesartan at a dose of 40 mg. Dose‐dependent reductions in 24‐hour mean SBP recorded through ABPM was recorded at the end of the study in all azilsartan groups. The reduction was more significant, with 80 mg azilsartan group than olmesartan 40 mg by 2.1 mm Hg (p<0.05).
Azilsartan, in combination with chlorthalidone, significantly achieves lower BP targets than the combination of olmesartan and hydrochlorothiazide. Neutel and co-workers evaluated long-term safety of fixed-dose combinations azilsartan medoxomil/chlorthalidone compared with olmesartan medoxomil/hydrochlorothiazide. (6) This 52-week study enrolled 837 patients with essential hypertension (all stage 2, clinic SBP 160-190 mm Hg) to get randomized in two groups. One group received a fixed-dose combination of azilsartan medoxomil 40/chlorthalidone 12.5 while other was treated with olmesartan medoxomil 20/hydrochlorothiazide 12.5 fixed-dose combination. The dose was up-titrated if required. A more significant blood pressure reduction was observed with Azilsartan medoxomil/chlorthalidone by week 2, and the effect was maintained throughout the study period. A Fixed-dose combination of azilsartan medoxomil/chlorthalidone also showed an encouraging benefit-risk profile. Azilsartan has also demonstrated better efficacy in combination with CCBs.(7)
Along with its inverse agonistic properties, Azilsartan has a very high affinity and slow dissociation from the AT 1 receptor. This makes Azilsartan as a very good candidate for clinical effects beyond simple BP control. It potentially counteracts cardiac hypertrophy, cardiac fibrosis, and insulin resistance, along with improved reno-protection and atherosclerotic plaque stabilization. (8) In addition to the primary effect, the drug has been shown to have pleiotropic effects beyond receptor blockade. (9)
If we consider the safety profile of Azilsartan, it has low-incidence of side effects, which make it suitable for nearly every hypertensive patient. At a dose of 40 mg, Azilsartan does not require dose adjustment for patients with mild, moderate kidney disease. The lower rates of discontinuation due to adverse events improve patient compliance, and hence treatment discontinuations are less likely to occur in long-term use. (10)
From the current evidence, it is clear that Azilsartan is a useful and attractive new option for treating patients with every stage of hypertension, both alone and in combination with diuretics and calcium channel blockers.
The author, Dr Uday Jhadhav is a Senior Clinical Cardiologist practising in Mumbai, India and is currently associated as a Consultant in Cardiology and Head, CV Imaging Department at MGM New Bombay Hospital.
The above article has been published by Medical Dialogues under the MD Brand Connect Initiative. For More Details on Azilsartan, click here
References:
1. Pradhan A, Tiwari A, Sethi R. Azilsartan: Current Evidence and Perspectives in Management of Hypertension. International Journal of Hypertension. 2019; 2019. doi.org/10.1155/2019/1824621
2. Georgiopoulos G, Katsi V, Oikonomou D, Vamvakou G, Koutli E, Laina A, Tsioufis C, Nihoyannopoulos P, Tousoulis D. Azilsartan as a potent antihypertensive drug with possible pleiotropic cardiometabolic effects: a review study. Frontiers in pharmacology. 2016 Aug 3;7:235.
3. Hjermitslev M, Grimm DG, Wehland M, Simonsen U, Krüger M. Azilsartan medoxomil, an angiotensin II receptor antagonist for the treatment of hypertension. Basic & clinical pharmacology & toxicology. 2017 Oct;121(4):225-33.
4. Perry CM. Azilsartan medoxomil. Clinical drug investigation. 2012 Sep 1;32(9):621-39.
5. Bakris GL, Sica D, Weber M, White WB, Roberts A, Perez A, Cao C, Kupfer S. The comparative effects of azilsartan medoxomil and olmesartan on ambulatory and clinic blood pressure. The Journal of Clinical Hypertension. 2011 Feb;13(2):81-8.
6. Neutel JM, Cushman WC, Lloyd E, Barger B, Handley A. Comparison of long‐term safety of fixed‐dose combinations azilsartan medoxomil/chlorthalidone vs olmesartan medoxomil/hydrochlorothiazide. The Journal of Clinical Hypertension. 2017 Sep;19(9):874-83.
7. Weber MA, White WB, Sica D, Bakris GL, Cao C, Roberts A, Kupfer S. Effects of combining azilsartan medoxomil with amlodipine in patients with stage 2 hypertension. Blood pressure monitoring. 2014 Apr;19(2):90.
8. Dargad RR, Parekh JD, Dargad RR, Kukrety S. Azilsartan: Novel angiotensin receptor blocker. J Assoc Physicians India. 2016 Mar;64(3):96-8.
9. Kurtz TW, Kajiya T. Differential pharmacology and benefit/risk of azilsartan compared to other sartans. Vascular health and risk management. 2012;8:133.
10. Angeloni E. Azilsartan medoxomil in the management of hypertension: an evidence- based review of its place in therapy. Core evidence. 2016;11:1.