Whole grains beneficial for cholesterol control, finds study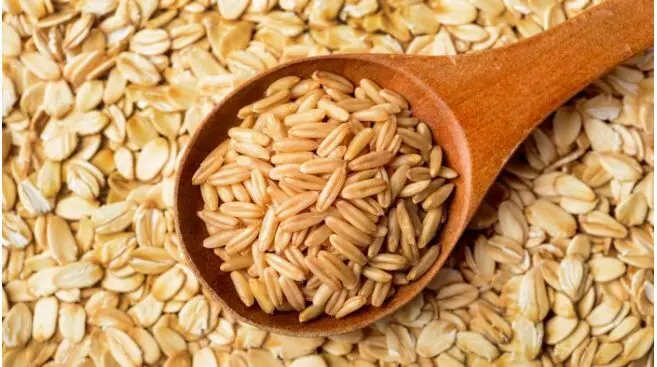 Consuming whole grains as opposed to refined grains can improve total cholesterol, low-density lipoprotein cholesterol, hemoglobin A1c, and C-reactive protein, adults with or without CVD risk factors,suggests a new study. The study findings have recently been published in Journal Of The Academy Of Nutrition And Dietetics.

Whole grains are a category of cereal foods in which the grain is intact or the constituents are present in proportions that represent the intact grain. The consumption of whole grains as opposed to refined grains, which contain the endosperm starch primarily, is recommended in dietary guidelines internationally1,6,7 due to the strong nutritional profile of the bran and germ, which contain protein, dietary fiber, magnesium, potassium, selenium, zinc, iron, iodine, folate, niacin, and vitamin E.8 Whole grains are also an important source of phytochemicals and antioxidants, such as phenols, flavonoids, zeaxanthin, lutein, and b-cryptoxanthin, and provide additional health benefits, such as reduced risk of CVD, type 2 diabetes, and some cancers, beyond the consumption of essential nutrients.
Observational data have established a link between the consumption of whole grains and reduced risk of cardiovascular disease (CVD); however, there is a need to review interventional research .
To bridge this gap, researchers undertook to determine whether interventions providing whole grain or whole pseudo-grain for dietary consumption improved CVD-related outcomes compared with refined grain or placebo in adults with or without chronic disease and/ or associated risk factors.
They designed a systematic review and meta-analysis of randomized controlled trials that compared whole-grain vs refined-grain or placebo consumption by human adults was conducted. PubMed, CINAHL, Embase, Web of Science, and Cochrane CENTRAL were searched for studies of 12 weeks (or 2 weeks for inflammatory outcomes) duration until 21 February 2020. Data were extracted for 14 types of CVD risk factors (40 outcomes in total).
On data analysis, the following facts emerged.
Twenty-five randomized controlled trials were included and 22 were metaanalyzed. Interventions ranged from 2 to 16 weeks; most samples were healthy (n ¼ 13 studies) and used mixed whole grains (n ¼ 11 studies).
Meta-analysis found that whole-grain oats improved total cholesterol (standardized mean difference [SMD] ¼ e0.54, 95% CI e0.95 to e0.12) and low-density lipoprotein cholesterol (SMD ¼ e0.57, 95% CI e0.84 to e0.31), whole-grain rice improved triglycerides (SMD ¼ 0.22, 95% CI e0.44 to e0.01), and whole grains (all types) improved hemoglobin A1c (SMD ¼ e0.33, 95% CI e0.61 to e0.04) and C-reactive protein.
"Further interventional research is needed to better understand the preventive and treatment potential of wholegrain and whole pseudo-grain dietary intake for CVD, particularly among those with existing CVD risk factors."wrote the team.
· For full article follow the link: 10.1016/j.jand.2020.06.021
Primary source: Journal Of The Academy Of Nutrition And Dietetics.
Source : Journal Of The Academy Of Nutrition And Dietetics