Dr Rakesh Kumar Vats, IAS Takes charge as MCI Secretary General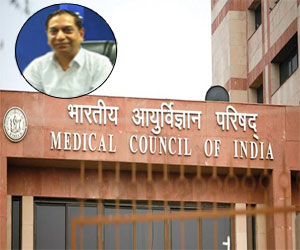 New Delhi: Dr Rakesh Kumar Vats, IAS has taken over the charge as Secretary General of the Medical Council of India (MCI).
Confirmation to this effect comes from the official site of MCI which mentions the name of Dr Vats as the new secretary general of the medical council.
An Indian Administrative Services official from the 1986 West Bengal cadre, Vats serves an additional secretary and financial advisor to the Ministry of Health and Family Welfare along with administration of Central Government Health Scheme as Director General and e-health programmes. He also served as the Chairman of the Drug Price Regulator, National Pharmaceutical Pricing Authority (NPPA) from April 2018 to November 2018
Dr. Vats has experience of working as Financial Adviser in the Ministry of Urban Development, in addition to the field experience of Revenue Administration in the Districts and Secretariat of the State Government.
Dr. Vats is a Medical Professional by education and has experience of working in Radiotherapy Department for 3 years before joining the administration. Many initiatives of the Ministry of Health in policy related to the use of drugs, medical devices and food standards have been his priority concerns.
Dr Vats replaces Dr Sanjay Shrivastav who had resigned last week. Dr Sanjay Srivastava, Ex- Deputy Director General, DGHS, MOHFW had been appointed as the Secretary-General to assist the Board of Governors in the month of September 2018, when it had handed over the reign of the apex medical council to the 7 member Board of Governors, through an ordinance.
Read Also: Medical Council Of India secretary general Sanjay Shrivastava resigns
The temporary charge after Shrivastav's resignation had been handed over to Prof Siddharth Ramji, with now Dr Vats taking the charge
Earlier last week, The Union Cabinet approved the proposal for promulgation of the Indian Medical Council (Amendment) Second Ordinance, 2019 to allow the Board of Governors (BOG) to run the scam-tainted apex body for regulating medical education. This extended the period for which the BOG was appointed, has been increased from one year to two years.
Read Also: MCI Board of Governors to now run Council for 2 years: Modi Cabinet passes fresh Ordinance
The seven members in the BoG include three doctors from the AIIMS- Dr VK Paul (former HoD paediatrics and current member, Niti Aayog), Dr Randeep Guleria (director) and Dr Nikhil Tandon (professor endocrinology).
There are two other doctors — Dr Jagat Ram (director-PGI Chandigarh) and Dr BN Gangadhar (director- National Institute of Mental Health and Neuro Sciences) — and two ex officio members – Dr S Venkatesh (Director General of Health Services) and Dr Balram Bhargava (Director General- Indian Council of Medical Research).