Haryana: Health Minister launches healthcare Apps to improve services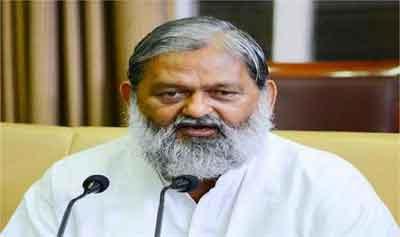 Chandigarh: Haryana Health Minister Anil Vij on Wednesday launched Electronic Vaccine Intelligence Network (eVIN), Safe Delivery App and ASHA Soft mobile application, to improve healthcare services in the state.
Read Also:-Infant, Maternal Morality Rates decreased in Haryana: Health Minister Anil Vij
Mr Vij said that eVIN App would support the central government's Universal Immunization Programme by providing real-time information on vaccine stocks and flows, and storage temperatures across all cold chain points in Haryana. He said that eVIN is an innovative technological solution for strengthening immunization supply chain systems in India. It has been implemented by the Ministry of Health and Family Welfare (Mohfw) with the support from the United Nations Development Programme (UNDP).
The Minister said that during the programme, Vaccination Col Chain Managers of all 22 districts, were given smartphones. He said that eVIN is such an app, which would help in providing the information of vaccine or medicines inventories to the cold chain managers. This App would help in providing information of vaccine stocks and storage temperatures in all cold chain points of the state.
Read Also:- Golden cards of 12.31 lakh beneficiaries made under Ayushman Bharat in Haryana: Health Minister Vij
He said that Safe Delivery' App would provide information about mother and newborn safety as well as of doctors, paramedical staff and others. The officers would be able to use this App online as well as offline.
He said that ASHA soft mobile application is a web based mobile application, which would monitor the performance of ASHA workers and their payments and incentives.
Read Also:- 9 districts to be Malaria Free this year: Haryana Health Minister Vij