Karnataka: Man Impersonates MBBS Doctor, bags PHC job, gets married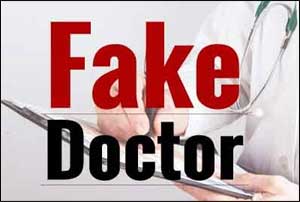 The impersonator got married after informing his in-laws that he is a practising doctor
LAKSHMESHWAR: An impersonator working as a doctor with the Karnataka government for the past 5 months has been missing for the last 16 days, ever since his con came to light. The man while carrying his ruse as a doctor at a PHC was drawing a salary of Rs. 46,000 per month from the government.
A recent report in TOI states that the impersonator, whose identity is still unknown but presumed to be a Belagavi resident, used the credentials of an MBBS doctor, Dr Vikas Patil to bag the job with the government.
He applied for the post of district health officer in Gadag, submitted the necessary certificates and documents in regards to "his qualification" and secured the job in March 2018. After this, he was also appointed as a doctor for the Bannikoppa Primary Health Centre  (PHC) of Shirahatti taluk.
TOI adds that the impersonator also got married after informing his in-laws that he is a practising doctor. He continued providing medical treatment to the patients until recently when his identity theft got busted.
The matter came to light when someone informed the father of real Dr Vikas Patil about an impersonator using the credentials of his son. The father then went up to the Gadag district health officer Dr N.S. Honakeri and provided the original MBBS documents of Dr Vikas Patil. The 'original' Dr Vikas Patil is pursuing his post-graduate studies in medicine.
The current whereabouts of the fake doctor are presently unknown.
The menace of impersonation of doctors seems to be growing in the state of Karnataka. Medical Dialogues team recently reported that the renowned Fortis Hospital, Bannerghatta Road, Bengaluru became a victim to the fake doctor fraud after it hired a resident doctor, only to later find out that the credentials that the imposter had submitted regarding Karnataka Medical council registration belonged to some other doctor.
Read Also at Medical Dialogues : Karnataka: "Doctor" found working with Fortis based on Someone Else's Medical Council Registration