Man found acting as Pathologist in remote area by MAPPM; Booked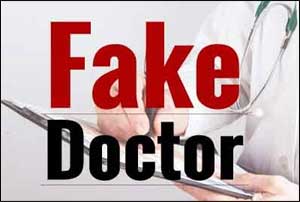 Mumbai:  The Maharashtra Association of  Practicing Pathologist and Microbiologists (MAPPM) has recently registered a complaint against a man who acted as a Pathologist working in the remote area of the state. The accused man has been booked by Khandeshwar Police station.
The man is identified as one Rajendra Nikam who pretended to be a Pathologist in association with certain pathology laboratories in rural areas. He was found to be signing laboratory reports as an MD Path.
The pretence came to light when the officials attached with the Maharashtra Association of  Practicing Pathologist and Microbiologists conducted a routine survey of laboratories in the area. The Association, later found that the man was not registered under the Maharashtra Medical Council (MMC) and Indian Medical Council (IMC).
It was futher found that no such registered Medical practitioner with the qualifications of MD Path exists. Consequently, the association filed a complaint against Sidhkala Computerized Pathology Lab and Rajendra Nikam.
Speaking to the Medical Dialogues, Dr Prasad Kulkarni, Executive Member MAPPM informed, "During investigation police found that the Qualification documents of Dr Dube were tampered who is actually MBBS DPB. Rajendra Nikam presented himself as a Qualified (MD PATH) and started getting Consulting fees against name and Electronic Signature being used to authorize laboratory reports. Further it is revealed that he is running a Paramedical Institution at Kurla Mumbai."
Medical Dialogues had recently reported that an Insurance Company had filed a complaint with the Maharashtra Medical Council (MMC) against a Pune-based woman pathologist for allegedly lending her signature print to various laboratories to sign on pathology reports without her personal supervision.
The matter came to light during the investigation of various claims submitted by patients to the insurance agency. A probe was initiated by the Insurance company following which a complaint was drafted with the Council and the Maharashtra Association of Practising Pathologists and Microbiologists (MAPPM) was also informed.
Read Also: First: Insurance Company files Complaint against Pathologist for lending signature