Minimum qualifications required to perform Echocardiography in India: MCI To take a call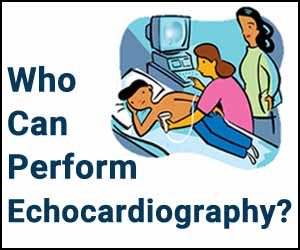 New Delhi: The apex medical regulator, Medical Council of India Board of Governors (MCI BOG) are soon going to take a call on the matter of the minimum qualifications required to perform the diagnostic test Echocardiography in India.
Echocardiography is a type of ultrasound of the heart, where an ultrasound machine and its small probe are used to diagnose and monitor certain heart conditions by checking the structure of the heart and surrounding blood vessels, analysing how blood flows through them and assessing the pumping chambers of the heart. Traditionally a cardiologist's domain, in India, its commonly performed by DM/DNB Cardiology, those having the qualification of Post Graduate Degree in Clinical Cardiology (PGDCC), MD(Medicine) doctors having experience on the modality.
However, there are no clear cut guidelines till date as to the minimum qualifications that are required to perform the diagnostic test. The matter of the minimum qualifications recently became a matter of debate after Kolkata based BM Birla Heart Research Centre (BMBHRC)  was directed by the West Bengal Clinical Establishment Regulatory Commission to pay Rs 20 lakh compensation to the family of a patient who died during treatment after concluding that two employees including one doctor at BM Birla Heart Research Centre in Alipore were not qualified to conduct and report echocardiography.
The Commission noted that the doctor who held a PGDCC from IGNOU, which was not recognised by the council-which implied his basic qualification of MBBS was only valid and not his specialist qualification of PGDCC. The commission based on this held the doctor and the hospital deficient in service noting
 the employment of the doctor as consultant in charge, NI department and engaging him for conducting non-invasive procedure and echocardiogram and to give study report interpreting the data available from such a procedure and on the basis decide the course of the treatment is not only detrimental to patient care service but also completely unauthorised and illegal. The practice on the part of the Clinical establishment, BM Birla comes within the ambit of deficiency in patient care service and amounts to irrational and unethical trade practice.
Read Also: MBBS with IGNOU PGDCC performing Echo: Hospital fined Rs 20 lakh
The matter soon reached the Calcutta High court, with the court asking for the MCI stand on the matter. The issue was then brought up in the recent meeting of the MCI Board of Governors, where the BOG decided to take the opinion of Dr Balram Bhargava, a member BOG as well as one of the eminent cardiologist in the country, before the opinion is sent to the Council Advocate for submission before the High Court of Kolkata.
Read AlsO :Can MBBS do Ultrasound- Supreme court reserves its interim order