Not Rs 15,000, only Rs 8,000 per shift: Delhi Govt decreases Honorarium for Specialists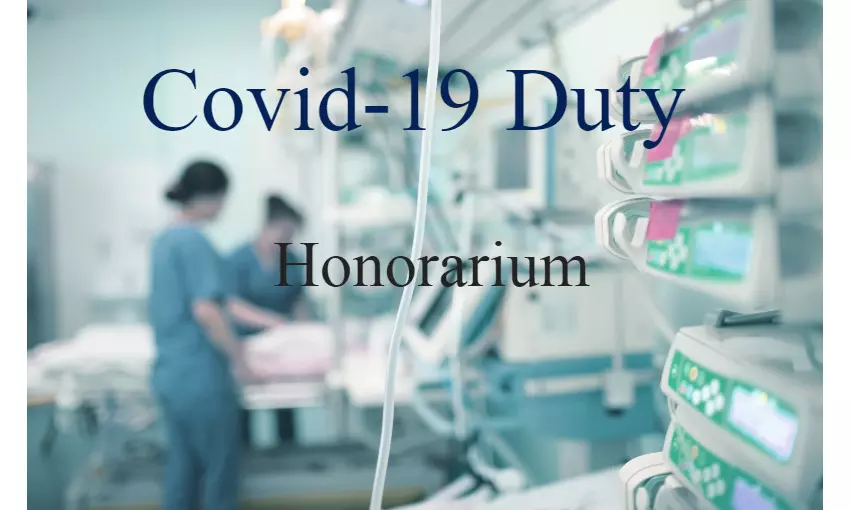 New Delhi: Making modifications to the amount of honorarium paid to the Specialist doctors employed by Covid hospitals of Government of NCT of Delhi, the Health and Family Welfare Department, operative under Delhi Government has decreased the per shift amount. As per the latest notification dated 03.05.2021, the specialist doctors would now receive Rs 8,000 per day per shift instead of Rs 15,000 as mentioned earlier.
The recent notification has been issued in continuation to the earlier notification dated 29.04.2021. Medical Dialogues had earlier reported that struggling to find sufficient manpower to provide adequate treatment to critically ill COVID-19 patients, the Delhi Government had given authority to COVID hospitals to augment their capacity. With this, the hospitals were made allowed to directly employ specialists for COVID patients at Rs 15,000 per shift and consultants at Rs 6,000 per shift.
Also Read: Doctor shortage: Delhi govt hospitals to pay Rs 15,000 per shift to specialist, Rs 6,000 to Consultant

This addition of more medical staff was supposed to enhance the capacity of hospitals to manage a huge influx of COVID patients as following this order, the government-run COVID hospitals will be able to hire specialists, consultants, medical/dental students, interns, nurses, and nursing students to address the greatest bottleneck of staff shortage while adding intensive care facilities.

While exercising powers under section 50 of the disaster management act, 2005, the govt. had paved the way for the new hirings initially for three months.

As per the orders, a specialist doctor holding a PG degree was to be offered Rs 15000 per day per shift, and a consultant doctor holding an MBBS degree was set to be offered Rs 6000 under the new hiring criteria. The notification also mentioned that a total of Rs 4000 would be offered to interns/ medical students or dental/Ayush graduates, and Rs 2,000 to BSc Nursing graduates/ GNM on a per-day per shift basis.
However, the Delhi Government has now revised the payment offered to the specialist doctors and decreased the amount from Rs 15,000 to Rs 8,000 to be paid on a per-day per shift basis.
"In partial modification of this office order of even number dated 29/04/2021, the Honararium per day per shift in respect of Specialist allowed to be requisitioned by Medical Directors/ Medical Superintendents/ Directors of all COVID Hospitals of Government of NCT of Delhi may be read as 8000/- per day per shift (Eight Thousand) instead of 15000/- per day per shift," read the recent order signed by Ashish Chandra Verma, Principal Secretary of Health and Family Welfare.

However, the Government hasn't made any changes to the amount paid to consultants, interns, medical students, and nursing graduates.
"Rest of the contents of the order shall remain same," the order clarified.
Also Read: Himachal Govt to pay Rs 3000 monthly incentive to MBBS interns on COVID duty