PM Modi to release Commemorative Stamps in honour of AYUSH Master Healers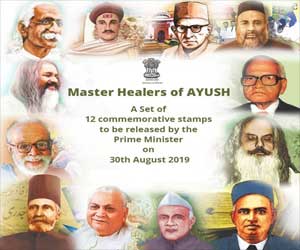 New Delhi: On the 30th August 2019, the Honourable Prime Minister of India, Shri Narendra Modi is going to release the commemorative Stamps as a humble homage on 12 Master Healers of AYUSH (Ayurveda, Yoga & Naturopathy, Unani, Siddha and Homoeopathy) practices.Committed to its intent of highlighting the great work and acknowledging the achievements of the great Master Healers of...
New Delhi: On the 30th August 2019, the Honourable Prime Minister of India, Shri Narendra Modi is going to release the commemorative Stamps as a humble homage on 12 Master Healers of AYUSH (Ayurveda, Yoga & Naturopathy, Unani, Siddha and Homoeopathy) practices.
Committed to its intent of highlighting the great work and acknowledging the achievements of the great Master Healers of AYUSH Systems, the Union Ministry of AYUSH has planned to honour eminent scholars and practitioners in the field by releasing 12 commemorative postal stamps in their name and the Hon'ble PM would release these stamps in this event besides conferring the PM's Yoga Awards.
Read Also: PM to Confer Yoga awards for outstanding contribution for Promotion and Development of Yoga
The Ministry of AYUSH is privileged to bring out Commemorative Stamps as its humble homage on 12 Master Healers of AYUSH practices.
1. TV Sambasivam Pillai
2. Mohammad Abdul Aziz Lakhnawi
3. Mohammad Kabiruddin
4. Maharishi Mahesh Yogi
5. Kuvalayananda
6. Dinshaw Mehta
7. Bhaskara Vishwanath Gokhale
8. Shastri Shankar Daji Pade
9. YadavJi TrikamJi Acharya
10. K Raghavan Thirumulpad
11. Brihaspati Dev Triguna
12. KG Saxena
These master healers are the ones who have contributed significantly in the field of the Indian system of medicine.
Thiru T.V. Sambasivam Pillai: He authored the "Siddha Cyclopeadic Medical Dictionary", a mammoth work of unprecedented scale and erudition. It extends over 5 volume s with around 87,000 words, and is one of the most treasured and impactful works in Siddha medicine. It is also believed to be one of the greatest achievements in the encyclopedia history of India. TV Sambasivam Pillai is revered as the "Legend of Siddha Cyclopeadic Medical Dictionary" by the scholars of Siddha medicine.
Hakim Mohammad Abdul Aziz Lakhnawi: Born on 24th September 1854 in Lucknow, Mohammad Abdul Aziz Lakhnawi was an illustrious physician and an outstanding teacher. He established a Medical School in Lucknow in 1902 and named it Takmil al -Tibb, meaning, completion of education in Medicine. His fame was so widespread that students and practitioners used to come to him to study not just from different parts of India, but also from Afghanistan and Central Asian countries. His Medical School is now a reputed College maintained by the Government of Uttar Pradesh.
Hakim Mohammad Kabiruddin: One of the most prolific writers and a great academician of Unani Medicine of the 20th century. He devoted his efforts in translating many important books into Urdu language and it is his greatest contribution to Unani Medicine. He founded Al-Masih, a monthly magazine and established 'Daftar al-Masih', a publishing house, which published original works as well as translations. He was honored with the title of 'Shahanshah-e-Tasnifaat' (Emperor of Compilations) by Nizam of Hyderabad. Hakim Kabiruddin was a great teacher. He served as Professor at A&U Tibbia College, New Delhi; Reader at Ajmal Khan Tibbiya College, AMU, Aligarh and Vice Principal at Nizamia Tibbia College, Hyderabad.
Maharishi Mahesh Yogi: Known for original contributions to Yoga and Meditation, he is remembered most for developing the Transcendental Meditation technique. The Shankaracharya of JyotirMath, Swami Brahmananda Saraswati, was his guru. From 1955 he travelled around India and the world to spread his message of peace and spirituality and inspired thousands of followers. Maharishi's legacy lives on through the numerous books that he authored, and the many institutions that he set up, including the Maharishi International University (later renamed Maharishi University of Management).
Swami Kuvalayananda: A pioneer in scientific approach to Yoga, Swami Ji was instrumental in making it more acceptable to the modern world through his research work on Yoga techniques. He published the first journal devoted to scientific investigation into yoga, namely Yoga Mimamsa. His work established the positive impact of Asana, Shatkarma, Bandhas, and Pranayama on humans. Kaivalyadhama Yoga Institute founded by him in 1924 continues to work for the upliftment of society through the application of Yoga in various spheres of life.
Dr. Dinshaw Mehta: A close confidante of and personal physician to Mahatma Gandhi, Dr. Dinshaw Mehta was deeply committed to natural and holistic methods of cure. He helped Mahatma Gandhi to establish the Nature Cure Clinic and Sanatorium at Pune, which is presently the National Institute of Naturopathy. Dr Dinshaw carried out scientific studies into Naturopathy, especially on fasting. He is a true path-finder for Naturopathy in India.
Vaidya Bhaskara Vishwanath Gokhale: was a skilled teacher, far sight visionary and eminent Ayurveda physician. He emphasized the need for quality Post Graduate education and research in Ayurveda. He was also one of the early votaries of integrative medical system. His ideas to increase the potency of routinely used drugs are familiar as Ekaushadhi Prayoga. His teachings continue to serve as guiding light for generations of Ayurveda professionals even after so many decades.
Vaidya Shastri Shankar Daji Pade: is revered for his prolific writing skills, scholarship, deep thinking and technical proficiency in Ayurveda. He proposed opening of Ayurveda Schools to make people aware of the strengths and secrets of Ayurveda. Throughout his life, he motivated fellow-professionals to establish associations and discussion groups in Ayurveda that later lead to the world of Ayurveda Conferences. He contributed more than 75 weighty books and commentaries. Besides, he drew up a list of 702 ancient Ayurveda texts.
Vaidya YadavJi TrikamJi Acharya: was a bright luminary and successful practitioner of Ayurveda. Recognizing the lack of authentic editions of Ayurveda treatises, he founded the Ayurveda Granthamala Trust that published authentic editions of Ayurveda treatises. The more than 40 books that he published embody his scholarship and practical experience. In appreciation of his meritorious work Govt of India appointed him as the first Principal of Post Graduate Teaching Centre in Ayurveda, Jamnagar in 1956.
Vaidya Bhooshanam K Raghavan Thirumulpad: was an eminent Ayurvedic and Sanskrit Scholar, who inspired generations of Ayurveda students. He was a proponent of classical Ayurveda and symbolized a harmonious mix of ethics and rationality in the practice of medicine. He published more than 42 books. Motivated by Nationalistic movement, he participated in the propagation of Khadi. He founded Ayurvedic Medical Practitioners Hospital and Industrial Co-Operative Society (AMPHIC) of Ayurveda Physicians running a manufacturing unit of quality Ayurveda medicines in 1970. A grateful nation conferred the honour of Padma Bhushan on him posthumously.
Raj Vaidya Brihaspati Dev Triguna: was an accomplished Ayurvedic physician and scholar. He was renowned for his skills in pulse diagnosis. Many leading personalities including Presidents and Prime Ministers of India were his patients. In association with Maharshi Mahesh Yogi was instrumental in establishing a large number of Ayurveda Clinics and Panchakarma Centres globally. He was instrumental in establishing the Rashtriya Ayurveda Vidyapeeth (RAV) for preserving the Ayurveda knowledge through Guru Shishya Parampara. The nation honoured him by conferring on him the Padma Vibhushan.
Dr. KG Saxena: He is the first Honorary Adviser (Homoeopathy) to Government of India and had a privilege of being the first Honorary Physician to Dr. Rajendra Prasad, the then President of India. He made Herculean efforts for the recognition and advancement of Homeopathy. In recognition of his services to the cause of Homoeopathy, he was conferred Padma Shree award. He was also conferred with National Award at Calcutta by N.C. Chakravarty Memorial Committee for his magnificent contribution towards the development of Homoeopathy.
Read Also: Ayushman Bharat emerges as core of development agenda