Coronavirus Fear: 8 men assault doctor with sticks, made to clean hospital as punishment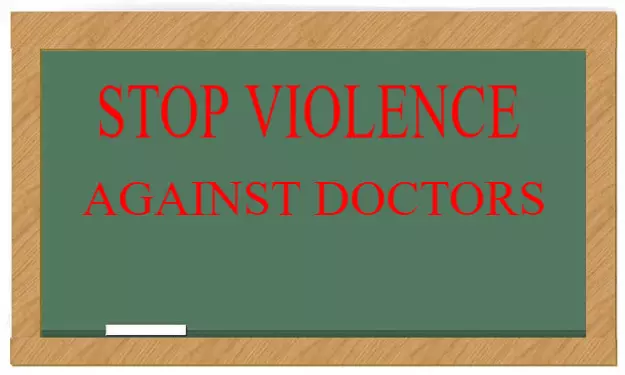 Rajkot: With the rise in cases of COVID 19 cases, the stigma around it is increasing, evidently creating a havoc in the lives of doctors, who are in the frontline of the Indian medical fraternity's battle against the virus. At the same time, the government finally in a mood of taking no-nonsense and harassment against the medical profession is taking unique ways to make sure to people what important contribution medicos are making to the society

In one such incident, ordering a punishment to let the attackers know how doctors are working in the quarantine facilities in such critical time of coronavirus (COVID 19) epidemic, 8 men who recently assaulted a private doctor were made to clean the government quarantine facility in Bhavnagar's Sir T Hospital.
According to a recent media report, the doctor, who had given primary treatment to an infected patient in a private hospital where he works; was thrashed by these 8 men.
After the patient had died on March 26, the doctor was ordered to quarantine himself. For that reason, he went to live at his sister's house which was vacant for the past few months. The incident took place on March 28th after his nephews came to give him tiffin on that evening. That time, eight persons living in the neighbourhood picked up a quarrel with them saying that the doctor should not be staying there.
They then allegedly thrashed them with sticks and pipes. The doctor's sister, who lodged the complaint, was also allegedly abused by the group, reports TOI. His nephews were also thrashed by the group, the doctor had alleged.
Read Also: ESIC Hospital Director heckled by reporter who did not believe he was a doctor!
After the complaint was filed against them, the attackers were called for interrogation by the police and were then allowed to go.
However, when the incident created an uproar amongst the medical fraternity in the area, the action was taken. The Bhavnagar district administration ordered them to clean the inside and outside area of the quarantine facility as punishment.
Talking to TOI, District Development Officer (DDO), V J Baranwal said, "When I visited a few hospitals on Sunday, doctors complained to me that such behaviour with medicos, that too at the time of the pandemic, was unacceptable and discouraging. So, we asked these eight persons to see how doctors worked in quarantine facilities. We did not want the attackers to repeat such an act."
Meanwhile, one of the alleged attackers have filed a counter complaint alleging the doctor's sister had thrashed them when they asked her not to keep a 'suspected Covid-19' person at her house. The complainant said they were scared that their children might get infected.
With the rise in coronavirus cases and stigma around it; the doctors, nurses and paramedical staff who are constantly risking their lives and fighting the pandemic; are susceptible not only to the infection but have become a victim of brutal harassment as well. Apparently, the ostracism level has risen so much that some medical personnel have even been stranded on roads with nowhere to go after being driven out of their rented homes by their landlords during this critical time of COVID 19 epidemic.
In a shocking yet appalling incident, a female doctor was recently threatened of rape if she did not vacate the flat she had been residing in.
Read Also: Residential Pressures On Doctors Reaching New Heights: Female Doctor Threatened Of Rape If She Does Not Vacate Premises
Source : WITH INPUTS