Makeover for Medical Education in UP: Medical Colleges in 75 Districts within 6 months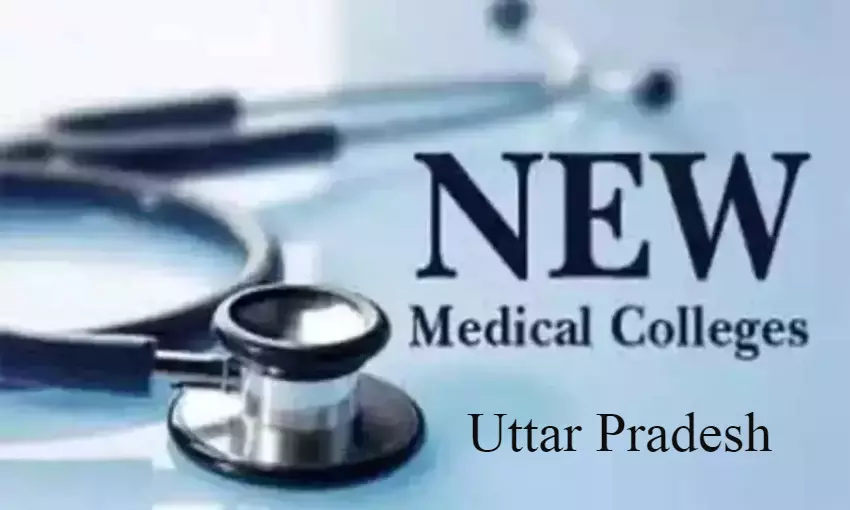 Lucknow: Medical Education in UP is witnessing a serious makeover due to the major developments that are happening in the State with the inauguration of nine medical colleges.

While addressing a press conference on Saturday, Uttar Pradesh Chief Minister Yogi Adityanath has mentioned that all the 75 districts of the State are going to have medical colleges within a time period of six months.
"It is ironic that only 12 government medical colleges were built in Uttar Pradesh between 1947 and 2016 but our government built 32 new medical colleges in four and a half years since coming to power in 2017,' he said while talking to media persons during his inspection of Maharshi Devraha Baba Medical College here.
It is one of nine medical colleges of the state which will be inaugurated by Prime Minister Narendra Modi as soon as the approval of the apex medical regulator is received, adds UNI.
Meanwhile, during the inspection of the under-construction autonomous government medical college in Siddharthanagar, the Chief Minister has revealed the names of nine medical colleges which are soon to be inaugurated by Prime Minister Modi, adds Hindustan Times.
Also Read: 27 Medical Colleges approved in Uttar Pradesh under the centrally sponsored scheme: Dr Harsh Vardhan
Medical Dialogues had previously reported that the former Union Health Minister Dr Harsh Vardhan had informed the Rajya Sabha about the establishment of the 27 new medical colleges in the State of Uttar Pradesh under the Centrally Sponsored Scheme for "Establishment of new medical colleges attached with existing district/referral hospitals".
MoS Dr. Bharati Pravin Pawar confirmed this again during a recent Parliament session where she informed the house about setting up 27 medical colleges under the centrally sponsored scheme and the fact that the major amount of the money allotted for this purpose has already been released.
Recently, with an aim of ramping up the healthcare facilities in the State and making the State as a hub of medical education, the State Government also made announcements for framing a policy for setting up medical colleges in 16 districts following the public-private-partnership (PPP) model.
Also Read: MBBS education in UP to get major boost in August

Until now, medical colleges have been made functional in 59 districts of the State. The State had also announced setting up nine medical colleges in nine districts in the month of July.

These new medical colleges would be set in Deoria, Etah, Fatehpur, Ghazipur, Hardoi, Jaunpur, Mirzapur, Pratapgarh, and Siddharthnagar districts.
As per the latest media report by the HindustanTimes, during the inspection of the under-construction autonomous government medical college in Siddharthanagar, the CM Yogo addressed a press conference and stated that as soon as the nine new medical colleges get approval from the National Medical Commission, they going to be inaugurated by the Prime Minister Narendra Modi.
Yogi said Siddharthnagar medical college has been named Madhav Prasad Tripathi Medical College while Deoria Medical College has been named Deoraha Baba Medical College. Similarly, Jaunpur Medical College will be known as Umanath Singh Medical College, Ghazipur Medical College as Maharishi Vishwamitra Medical College, Pratapgarh Medical College as Sonelal Patel Medical College and Mirzapur Medical College has been named Maa Vindhyavasini Medical College. He has further informed that admission to these nine medical colleges including Hardoi and Etah would commence from this year, adds HT.
The CM further said the state government had already named Basti Medical College after Maharishi Vashisht, Ayodhya Medical College after Rajarshi Dashrath and Bahraich Medical College after King Suheldev.
UNI reports that while addressing the press conference on Saturday, Yogi has further informed that his government, with the help of the Centre and its own resources, had established a chain of medical colleges in the state covering as many as 59 districts. "Such developmental activities take place when the like-minded governments are there at the Centre and the state,' he pointed out.
Expressing deep gratitude to the PM who launched the Pradhan Mantri Swasthya Suraksha Yojana, CM Yogi said that five-seven years ago it could not have been imagined that Deoria would also have a medical college. He said that Rs 155 crore had already been spent on the Rs 208-crore project of Deoria medical college where the appointment of faculty had been completed while the remaining work would be finished by December this year.
Also Read: PM Modi to inaugurate 9 new Medical Colleges in UP this week

The CM said that the people of eastern Uttar Pradesh will get world-class medical facilities. There used to be only BRD Medical College in Gorakhpur which catered to the entire region but now there would be medical colleges in Deoria, Basti and Siddharthnagar too while the construction work was underway in Kushinagar. " The AIIMS in Gorakhpur, with world class medical facilities, has also started serving in Gorakhpur. It will also be inaugurated by Prime Minister Narendra Modi in October," he informed.
He said that the role of medical colleges had been significant in controlling the menace of a global pandemic in the largest populated state of the country. He said Encephalitis was also controlled during the last four and a half years. Once Deoria was also among the most encephalitis-affected districts but now the deaths due to this have come down by 95 percent.
"In 16 districts, where there are no medical colleges, the state government is planning to establish medical colleges through the PPP model in the next six months," he told PTI in Deoria during the inspection of Maharshi Devraha Baba Medical College.
Also Read: UP to Bring Policy for Setting up Medical Colleges in 16 District on PPP model
Source : with agency inputs