Who can be a member MAC in National Medical Commission: Health Ministry releases Gazette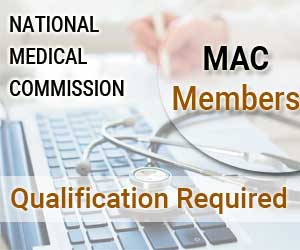 New Delhi: Beginning to lay down the rules for the formation of the various bodies under the upcoming National Medical Commission (NMC), the Ministry of Health and Family Welfare recently issued a Gazette notification spelling out the Medical qualification and experience to be possessed by a nominated Member of Medical Advisory Council.
These rules have been called  National Medical Commission, Medical Advisory Council (Qualification and Experience of Residuary Member) Rules, 2019 and come into force effective 12th September 2019.
The rules spell out that both the minimum qualifications as well as the experience required for the nominated NMC MAC members under section 11.
As per the rules The Member of Medical Advisory Council to be nominated under the second proviso to section 11 shall be a person––
(a) possessing a post-graduate degree in any discipline of medical sciences from a recognised University;
(b) registered with the National Register or State Register; and
(c) having experience of not less than fifteen years, including seven years administrative experience, in the field of medical sciences from a recognised institution or University.
Medical Dialogues team had earlier reported, the Union Health Ministry on September 2, 2019 had issued a gazette spelling out that certain specific provisions of the Act would be coming into force from the said date. These provisions primarily concerned the formation of various bodies effective under the NMC act including the Medical Advisory Council.
Read Also: National Medical Commission Act provisions effective from 2nd September 2019: Union Health Ministry Gazette
The provisions are being specifically notified after the Delhi HC ordered a stay on the implementation of the Ministry of Health order calling for nominations for the purpose of formation of the NMC MAC. The court was responding to a petition filed by a Delhi medical practitioner that alleged that till date no rules, regulation, guidelines or procedure have been laid down under the NMC act for conducting the nomination, and hence in absence of procedures, the Health Ministry is bad in law inviting the nominations for the purpose of formation of the body