CM Yogi Adityanath Suspends Medical Superintendent, orders probe in alleged Medical Negligence case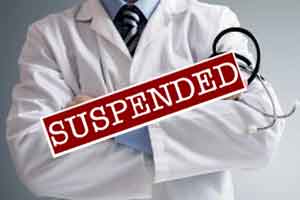 Bareilly (Uttar Pradesh): Chief Minister Yogi Adityanath has recently suspended a doctor and ordered departmental proceedings against another doctor of Maharana Pratap District Hospital on account of alleged medical negligence in connection with a case in which an infant died after allegedly being denied treatment.
The Chief Medical Superintendent (CMS) of the men's wing at the government hospital, Dr Gupta was suspended after the death of the four-day-old girl, an official release stated. Departmental proceedings have been ordered against the women department's head of the hospital, Dr Sharma for allegedly not admitting a child who was in a critical condition.
According to reports, the four-day-old patient died after allegedly being shuttled from one wing of the hospital to another. It has been alleged that while Dr Gupta did not admit a child and referred her to women's wing of the hospital, but she was allegedly referred back to Men's wing, resulting in the death of the child.
Read Also: Nair Hospital MD Gynaecology Suicide: MARD suspends 3 Doctors over alleged abetment
"A critically-ill child was brought to the men's wing of the hospital, where paediatricians were available. Instead of stabilizing the child, her family was sent to the women's wing, from where the child was sent back," officials said.
The girl born at a private hospital on June 15 had difficulty in breathing after which her parents brought her to the government hospital in Bareilly.
Her family alleged that they were made to run from one wing of the hospital to another for over three hours due to which the infant died.
Both the doctors justified their sides. Woman department chief Dr Sharma reiterated that there were no beds available when the victim visited them. "We have only four beds with having eight children on them," she said.
"I have given clear orders that all patients should be admitted. She kept wandering in the hospital but did not go to the emergency ward. Had she visited there, we would have saved the girl," Dr Gupta stated.
Read Also: Paediatric Patient goes for nasal surgery, Doctor operates on hernia; Suspended